Access
We suggest ways to save travel time on your trip.
For example, If you go on a sightseeing trip to Churaumi Aquarium by a rental car.
What do you do if you have two hours?
If you stay Naha city near the Airport and you want to arrive at Churaumi Aquarium at 10:00 in the morning from Naha city, you must leave around 7:30 in the morning, but if you stay Goyah-so, you can leave at 8:30am.Moreover, commuting rush is 7 am-8am in Naha city. Because traffic jams occur everywhere, it may take up to 3 hours to reach the aquarium.
If you stay overnight in Naha, it will take about 2 hours for a round trip and extra time. How do you use these two hours?
Sleep in one hour late in the morning
Slowly spend another 2 hours at the tourist spot
Go other sightseeing spots
Go back to the inn 1 hour early and go out to eat and to play near the city.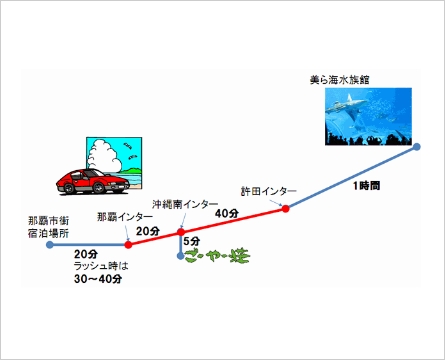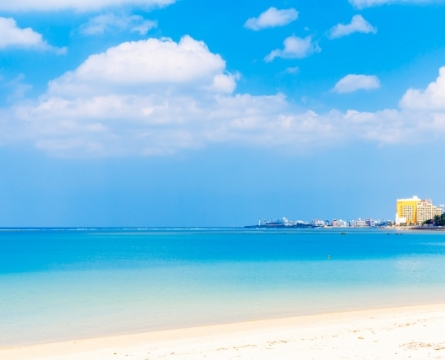 What do you do if you have two hours?
Naha city has heavy traffic, so foreigners who are not accustomed to driving will be worried.
Frustrated by traffic in Naha city. Worry about accidents.
You have to get up early in the morning. Arrival late at night.
It takes about 5 minutes by car from Goyah-so in Okinawa city to the nearest Highway Okinawa South interchange. Moreover, because the road can go through the wide National Route 330, you can easily enter the high-speed interchange.
If you like nature and the sea, it is better to choose here.
On the last day, if the flight time is early in the morning, it would be more convenient to stay overnight in Naha city. If it's an afternoon flight, why don't you drop in at a central of Okinawa island tourist spot after checking out?
If you want to enjoy nature and the sea, you can go to Kaichu doro(bridge and road to small islands) that makes you feel like running on the sea and arrive islands in 30 minutes. You can also go to Chatan, a popular spot, in 20 minutes by car from Goyah-so.
If you have 3-4 hours to get to the plane, you can visit the southern power spots and old battle site.
Goyah-so in Okinawa city is located in the middle of Okinawa island and is a convenient location for sightseeing by car rental.
We will suggest the best routes and local spots if you want.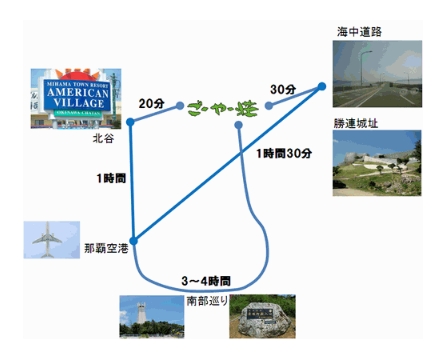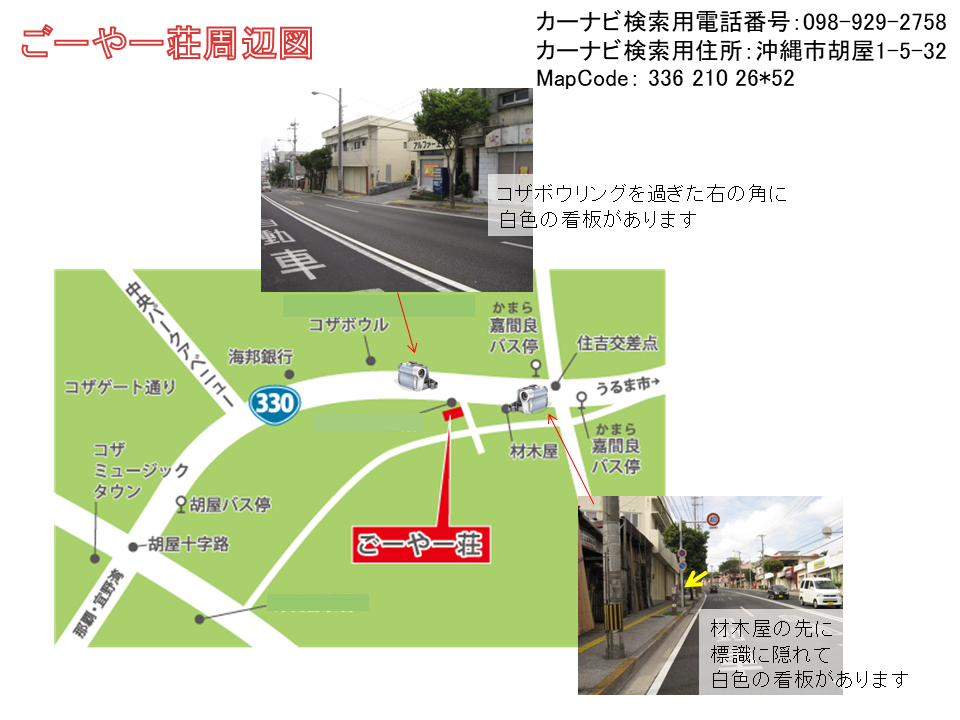 About 1 hour from Naha Airport and Naha city area.
From Naha Airport: (Highway use) Take Route 331 Oroku Bypass towards Tomigusuku. Take the Okinawa Expressway at Nakachi Interchange and head north for Okinawa City.
From Naha Airport (without highway use) / Naha City: Go north on Route 58 proceed from Ginowan City Isa Intersection to Prefectural Road 81 or Chatancho Chatan Intersection to Prefectural Road 130, and head to National Route 330.
Nearest Interchange: Get off at Okinawa Expressway "Okinawa South Interchange"
Take National Route 330 "Goya Crossroad" to Uruma City.
Go about 500m, turn right at the corner opposite "Koza Bowling center".
Click on the map to enlarge, print or save (PDF135KB Japanese only)
About 1 hour by Highway bus from Naha Airport.
●Get off at "Okinawa Minami"(Okinawa south) bus stop. 30 minutes on foot or 5 minutes by taxi.
We will pick you up at Okinawa South Bus Stop.
Please contact us in advance.
About 1 to 2 hours by local way from Naha Bus Terminal.
Nearest bus stop ●2-minute walk from Kamara bus stop.